Mark Burrell – Transformation Director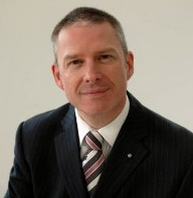 transformationdelivery.com was founded by Mark Burrell, who has over 25 years of transformation design and delivery experience, following a 15 year retail, business and corporate banking career.
A highly able, versatile & commercially-astute Transformational Business & Programme Leader with experience in consulting, banking and insurance financial services, retail, government (central and local), sports, travel, oil & gas and corporate sectors. Leads his teams by example in making strategic change happen and stick, developing capacity and capability in his change organisations.  Proven in a long track record of successfully designing, planning and delivering large scale and complex change across multiple businesses.  Gets what is needed, delivered… releasing value to plan.
Collaborative approach to directing successful business change, flexible in style to suit the organisation and team, engaging with business stakeholders at CEO/ MD / Group Board level & 3rd parties, delivering 'fit for purpose' Target Operating Models & transitions.  Leading the shaping and delivery of major business and AGILE IT transformational portfolios and programmes.
Highly accomplished, able to design and execute effective business strategies and commercial roadmaps, that are outcome and customer focused, with strong knowledge of IT delivery Agile and Waterfall lifecycles
Expert in change management, business transformation, change practice build enhancing capabilities and competencies, change portfolio creation, project delivery frameworks, stakeholder management, business engagement & communications, benefits realisation & business growth strategies. Organisational Design and Operating Models, Lean and continuous improvement.
Private sector work includes: FINANCIAL SERVICES with AIG Life, RBS, Abbey, Lloyds, Barclays, egg:, European and US banks: TRAVEL with TUI and Travelex; ENERGY and UTILITIES with BP, Castrol, BG Group, and National Grid.
HEALTH and SPORT: The Body Reset Clinic, the talkhealth partnership, Wycombe Wanderers Football Club and WWSGL (The Trust)
Public sector work includes: DWP, DEd, HMRC, CMEC, MoJ and Local Authorities.
Interim Management & Advisory Consulting Specialist, leading teams from 6 to 350+ staff, budgets from £0.5m to £100m+, acting in the capacity of Director of Transformation, Head of Change and Head of Portfolio.
Specialist in advising and mentoring Small and Medium Enterprises, drawing on the transformation lessons from mid and major corporates.